Rubber Parts for Automobile
Shinhan Industrial Company is manufacturing various rubber parts for automobile according to customer's requirement like rubber bushing, rubber mount, rubber cover, boot and other rubber to metal bonding necessary for steering apparatus.
Shinhan Rubber Parts Advantage
Selected Products List
Shinhan Rubber Parts for Automobile Advantage
Shinhan Industrial Company offers a comprehensive selection of rubber parts for automobile. Our high quality rubber parts are noted for the following advantages:
■ Based on concurrent engineering System we can meet any kind of design requirement for customers.
■ All manufacturing processes from raw material mixing to QC test are controlled by experienced and qualified resources.
■ Systemized Quality Control program including Lab test and field test are applied.

With more than 50 years of rubber parts manufacturing experience, we welcome your consideration and look forward to developing a solution to meet your requirement.
Inquiry
Selected Products List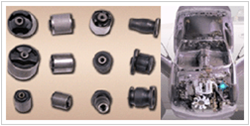 Bushing

Rubber busing absorbs shock or impact that is received from road surface and improves ride comfort and driving stability of vehicles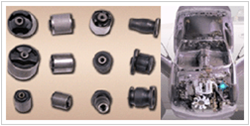 Boot, cover and other pad

Boot, cover, and pad kind that is general rubber moldings play a role to prevent grease secession and alien substance inflow from outside at same axle turning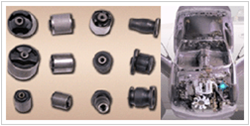 Rubber mount and other Metal joining products

Rubber mount and other Metal joining products play a role that absorb shock, noise that is produced mainly in car body and relieve impact box