Rubber Parts for General Industry
Shinhan Industrial Company provides various rubber parts which are used extensively in construction, electronic, manufacture, telecommunication and general consumer goods industry. For over 50 years Shinhan Industrial Company has been specialized in rubber mix, mold design, adhesion, injection and supported customers to find right rubber solution .
Shinhan Rubber Parts Advantage
Selected Products List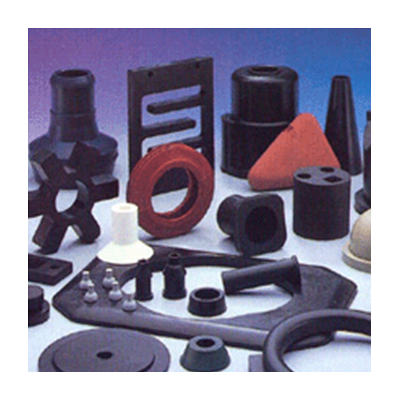 Shinhan Rubber Parts for General Industry Advantage
Shinhan Industrial Company offers a comprehensive selection of rubber parts for automobile. Our high quality rubber parts are noted for the following advantages:
■ Based on concurrent engineering System we can meet any kind of design requirement for customers.
■ All manufacturing processes from raw material mixing to QC test are controlled by experienced and qualified resources.
■ Systemized Quality Control program including Lab test and field test are applied.

With more than 50 years of rubber parts manufacturing experience, we welcome your consideration and look forward to developing a solution to meet your requirement.
Inquiry
Selected Products List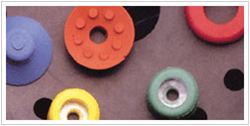 Special Rubber Products

Shinhan Industrial Company produces various rubber parts made of NR, SBR, CR, EPDM and other non-combustible material according to customer's requirement. We supply various forms of products such as general O-ring, Rubber Straps, Grips, Nipples, Pad, cover, and rubber isolator.
Rubber to Bonding(other metal joining things)

Shinhan Industrial Company manufactures various rubber-to-metal mounted products using various metal boards such PO, CR, HR, stainless steel and metal wires such as soft wire, hard wire, oil tempered wire according to customer's requirement.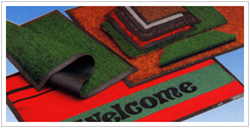 Rubber mats & mudguards

Shinhan Industrial Company produces mat for stock raising, golf, truck as well as for general house.

Usage

Width(mm)

Length(mm)

Thickness(mm)

House

750

900

3

800

490

18

900

1,500

3

1,100

1,800

3

Stock Raisiang

1,500

600

7

1,540

1,070

7

Vehicles

1,300

2,600

7

1,500

2,510

5

Golf

640

340

1

1,500

1,500

15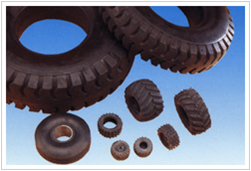 Rubber Tires

Shihan Industrial Company produces tires not only for general carrying cart and toy car but also for various size of Solid/Zero Press.

Division

Diameter(mm)

Thickness(mm)

Motor Tires

Solid

700

12

500

8

400

8

350

5

300

4

260

12 & 14

250

4

230

4

Zero Press

300

4

300

13

Toy Tires

Solid

52R

73R

115R

125R